Product Description
Variation Swatches & Photos for WooCommerce
WooCommerce Variation Swatches and Photos by WooThemes
Give your WooCommerce store that extra professional touch by replacing drop down fields with a color or image swatch to swap out product images and make selections.
WooCommerce Variation Swatches and Photos extension allows you to give your customers a visually attractive way of making a selection such as styles, colors, sizes and more.
Example Color Swatch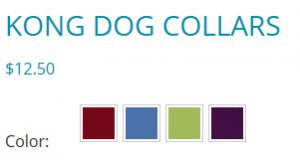 Giving customers the visual option to make selections using the Variation Swatches and Photos Extension gives your store credence and authority that the giant retailers have. using color and image swatches to change out the product display also makes it easier for the customer to visualize and make a buying decision.
Example Image Swatch

Colors and images can be defined by the store admin on an attribute or product level.
Give that professional look to your WooCommerce store today with WooCommerce Variation Swatches & Photos extension today!
Get professional with WooCommerce Variation Swatches and Photos today!