Product Description
ClassiPress Classified Ad Theme
Best selling classifieds ad theme for WordPress. ClassiPress theme is a feature rich classified ad theme for WordPress.
ClassiPress Theme by AppThemes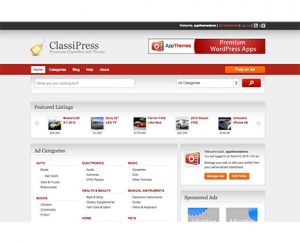 Four Ad Pricing Settings
Fixed
Percentage
Category
Custom (you create ad packages)
You also have the ability to mix it up offering free and paid ads.
Customize the Forms and Fields
You can setup the order forms customers are required to fill out to your specific needs.
Memberships
You can setup membership packages that can control the amount of ads members can submit.
Classified Ad Theme Management
Your customers will have their own dashboard for managing their ads. They will have the ability to; pause, edit, view and resubmit their ads.